We are combining our annual wildflower walk with a trip to Cowra to see the Waterbird Breeding Spectacular photography exhibition at the Japanese Gardens.
Our first stop will be to see the flannel flowers at Conimbla National Park. Meeting at the Wallaby Picnic Ground at 9:30 am.
After the walk, we will head into Cowra for lunch at the Japanese Gardens followed by the Waterbird Breeding Spectacular photography exhibition. The last few years of rain triggered perfect breeding conditions for waterbirds across the Murray-Darling Basin. The Commonwealth Environmental Water Holder (CEWH) has collected some incredible images from a range of photographers across the area and put them on exhibition.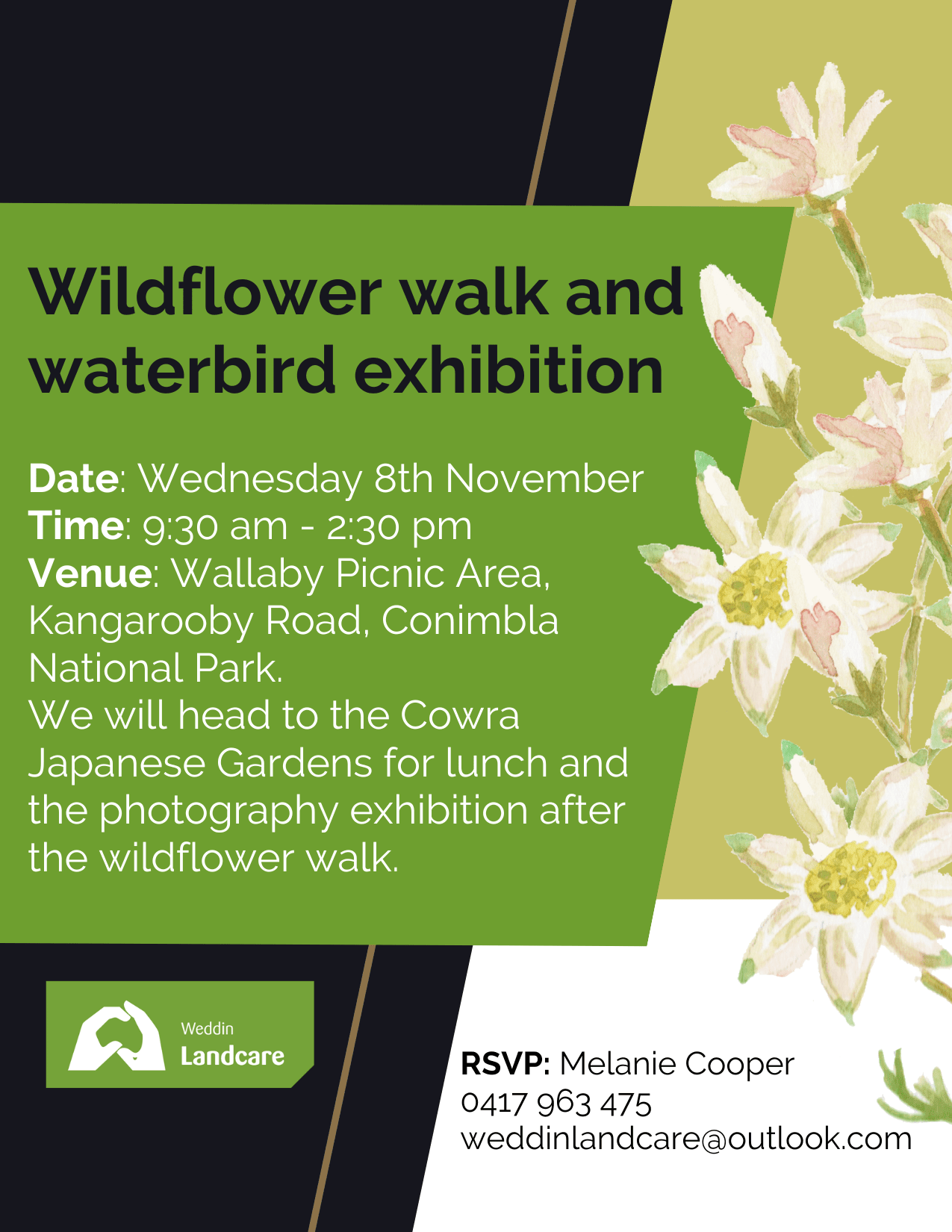 For those interested in carpooling, we will meet at the Weddin Community Native Nursery (43 East Street, Grenfell) at 8:30 am. Lunch will be at 1:30 pm at the Cowra Japanese Gardens. Please let us know if you will be carpooling and/or having lunch at the Gardens so we can book a table and make sure we have enough places.
Time: 9:30 am – 2:30 pm
Date: Wednesday 8th November
Venues:
Wallaby Picnic Area, Kangarooby Road, Conimbla National Park and Cowra Japanese Gardens,
Ken Nakajima Place, Cowra.
Cost: $14 admission fee to Cowra Japanese Gardens Cultural Centre plus lunch costs at the garden cafe.
RSVP: Melanie by Friday 3rd November on 0417 963 475 or weddinlandcare@outlook.com